Ballet Costumes - Subtle and Simple
by tybalt
(Francfort Germany)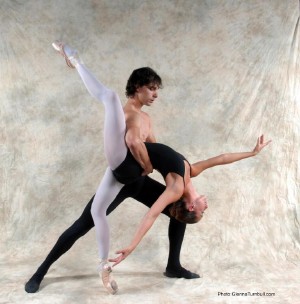 Ballet Costumes - Subtle and Simple


Continuing my first contribution on "classic" costumes, which showed "simple" white I send this pic with classical black costumes. It's the typical "cross-over" combination with his black tights corresponding to her black leo and her white tights corresponding to his upper body. You could discuss if a white shirt would have better contributed to this cross contrast than slightly tanned bare skin, but I think the designer wanted to stress another contrast: between her soft female lines and his ripped male muscle contures which is best expressed by a "classical" standard shirtless apparel.
So costumes must support body lines and not hide them, at the same time contrasting male and female character. This is another example of "the less being the more".
============================================
Reply by Odette
Ballet Costumes - Subtle and Simple
Hello Tybalt,
Thank you so much for your ballet costumes query. I very much enjoyed reading your thoughts on this ballet costume, you bring up some extremely interesting points. I, personally, love seeing the musculature of the dancers as I feel it is fascinating to see the sculpture of the muscles and the strength in a dancer's body. I find a professional dancer's body absolutely beautiful; they are exactly like athletes with each muscle so powerfully built, yet still slight enough to create the most exquisite lines.
So perhaps this costume would have worked even better with the female dancer without tights, showing her bare legs against his tanned bare skin. Or with a flowing white skirt that falls down along the line of her off-balance position.
Thank you Tybalt for your intriguing ideas. I am inspired by your interest to explore such imaginative aspects ballet costumes. You write very well and I appreciate your views.
All the best,
Odette
-------------------------------------
Comments
Hi Odette, you are completely right! A perfect cross-contrast PDD costume would be: the boy bare chest above black tights, the girl with long sleeved black high cut leo and bare legs.
In this pic her tights don't match well with the background. Do you agree? Of course there are many variations of the principle...
--------------------------------------------
Ballet Costumes - Contrasting Male and Female Lines (2)
by tybalt
(Francfort Germany)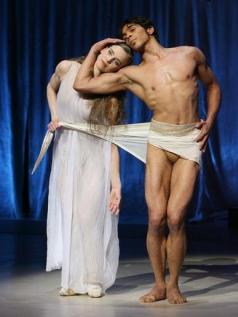 Desdemona and Otello
Ballet Costumes - Contrasting Male and Female Lines (2)

Dear Odette, thanks very much for your remarks completing my thoughts. I talked about "cross-contrast" in male and female costume.
Now I add an example of total contrast showing complete diversity in characteristic. The female body is painted behind flowing and falling lines of a sheer but completely covering costume, while the male body is nearly fully revealed with breathtaking outlining of muscles of thighs and shoulders, chest and arms. So this picture shows dominating male characteristics, the female pose in modest beauty and humility. Her demanding devotion is still underlined by her desire to remove even his loin cloth (you just begin to see his fleshtone dancebelt to which his costume will eventually be reduced) to get completely one with him, her head already being enframed by his arm as sign of his desire.
This loin cloth (not the handkerchief as in Shakespeare) will become the matter of jealousy in the further drama. So John Neumaier makes visible Otello's jealousy by what he thinks betrayal of erotic revelation. So this is the key moment (unification of the extremes before extreme separation) in this ingenious ballet, costuming becoming a decisive means of interpretation.


============================================


Reply by Odette

Ballet Costumes - Contrasting Male and Female Lines (2)

Hello Tybalt,

Thank you again for your insightful analysis.

I do love the photographs you show me, they have a similar style with an expressive and subtle feeling. I particularly like the interaction between these two dancers and how they interweave within the costume, it creates a very close relationship and the passion between the dancers is clearly reflected. I love the nude tones of the costumes as it flows along with the dancer's lines and creates a very raw look.

I have to say, it has become part of my day's enjoyment reading your beautifully worded descriptions on these exquisite ballet costumes. You really are enlightening me and making me view ballet costumes with a totally new appreciation.

Thank you.

All the best,

Odette