Ballet Dancers - Loosing Weight
by Paige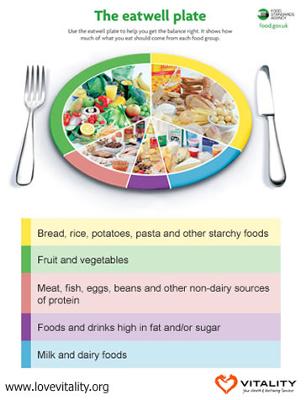 The Eat Well Plate - Eating the right balance of foods leads to a healthy dancer
Ballet Dancers - Loosing Weight


HI! How do I loose weight to be a better dancer? I train at a pre-professional ballet studio, and my teacher recently told me I have to loose about 5 lbs if I want to advance to the next level, or get better at all. I love ballet, and it is my passion, but I've been trying to loose weight forever, but nothing seems to work! PLEASE help! I do pilates 3 times a week and take my dogs on walks all the time too!
============================================
Reply by Odette
To: - Ballet Dancers - Loosing Weight
Hello Paige,
Thank you for contacting me, I completely grasp what you are saying and there will be many other dancers who query the same as you.
Nutrition and a healthy diet is very important especially for dancers as our body is our tool so we have to look after it by supplying it with the right food.
Never feel as though you need to loose weight to become a
better
dancer. If you are going to loose weight then do it for
you
and ask yourself if you really want to. Do not do it for anyone else but yourself.
Think of loosing weight more as toning your body up and becoming more of an athlete. Loosing weight can be a sensitive subject but always remember dancers are athletes and we aim for strength.
Loosing weight and fining down does take time, so if you are doing it correctly it may feel like your body is not changing. However, it is a gradual process so you have to be very patient with yourself.
Having a balance that is the
key. My main advice to loosing those few pounds would be to combine a healthy diet with aerobic exercise. Pilates is very good for toning your body so keep that up. I would also suggest swimming for around 30 minutes a few times a week to help loose those few pounds.
Drink plenty of water, aim to drink 2 litres a day. I believe it hugely benefited my body when I started drinking more water and also green tea is very good for you.
You want to keep your metabolism steady so aim to eat little and often. I snack on healthy things such as fruit, nuts and nutritious cereal bars. Eating complex carbohydrates such as jacket potatoes, pasta and brown bread are good at supplying energy and keeping you fuller for longer.
If you aren't used to eating these sorts of foods then give it some time and you'll learn to love eating healthily! It makes you feel good to know your providing your body with nutritious food!
One extra tip you can do in all your ballet classes is to always feel a great sense of length through your body. You should always feel as if you are growing taller and taller as if there is something pulling you upwards. This sensation is very eternal and hugely benefited me when I was a student, I saw my body lengthen out and fine down as I continued to feel this expanse through my body.
I hope my suggestions help and please keep in touch! I am always here to guide you so do not hesitate to ask more queries, I will be here to help!
Keep that passion!!
All the best,
Odette