Ballet Exercises - Developpes a la Seconde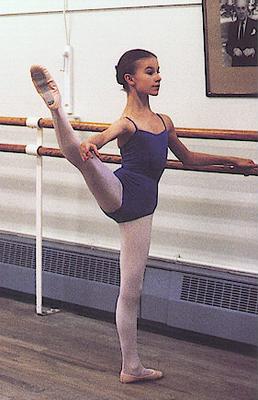 Developpe
Ballet Exercises - Developpes a la Seconde


Odette,
I was just wanting to know how you keep your hip down when doing a developpe? I keep trying but my leg doesnt go high at all, and when I try to lift my foot instead of my leg, my hip still hitches.
Orla
ps: you must be tired with all of my queries!
===========================================
Reply by Odette
To:- Ballet Exercises - Developpes a la Seconde
Hello Orla,
Thank you for your message, it is still lovely to hear from you. I am always here to help and happy to be there for you, so don't feel like you shouldn't ask me! It is always a pleasure.
In fact, you ask a great question because developpe a la seconde is a very challenging position to do correctly, especially when you lift the leg en l'air.
Your picture demonstrates a very impressive example of a clean, placed position with the leg above 90 degrees and still well placed. Often, when ballet dancers try to lift their legs high they forget their torso still has to try and remain square as well as the shoulders and hips.
Keeping your hip down is particularly harder in this position and a very common correction for most ballet dancers to get. From your retire position before extending to the developpe, I would say to focus on lifting your knee, whilst your hips still staying square, then extend the lower leg out to reach the full extension.
When you think of it like this and using your knee to place the height of your developpe, it helps the hips stay square and also makes it slightly easier to get the leg higher.
When your leg gets above a certain height, it is hard to keep the hips completely square but also remember to keep your weight on the supporting leg rather than pulling out to the lifted leg.
I hope this makes sense to you, let me know how you get on. This is mostly how I have thought about developpes, with many teachers telling me too.
Give it a go!
Best wishes,
Odette