Swan Lake Ballet
Romance, Drama and Beauty
Swan Lake ballet is one of the most loved classical performances, for both the dancers and the audience. It is full of beauty and passion, as well as story and magic.
It is a truly magnificent ballet to see in the full atmosphere of the theatre. When I was a young aspiring dancer, it blew me away and brought complete shivers in my body, as well as giving me a whole boost of inspiration for that one evening.
The unison of swans and expressive arm movements is completely mind-blowing.
The glowing white tutus bring awe to the eye and the unique corps de ballet dancing in perfection is glorious to see.
It is a ballet that really tests your ability as a dancer.
Swan Lake ballet tells the story of a beautiful young lady called Odette. When an evil magician turns Odette into a white swan, the only way she can be saved is if a man truly promises that he loves her.
Many classical ballet companies perform Swan Lake. Companies such as Dutch National Ballet and Royal Ballet have the luxury to perform it on such a big stage, that it looks even more spectacular.
Whether you are dancing in the corps de ballet, or the main ballerina, it takes an incredible amount of skill and stamina.
The story of Swan Lake is very dramatic, and one that has many different versions. If you are going to see Swan Lake at the theatre, I definitely recommend familiarizing yourself with at least the outline of the story. That way, you will understand and enjoy the ballet much more!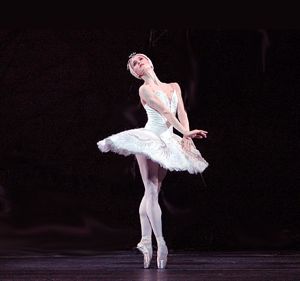 The Story Of Swan Lake
Prince Siegfried is hunting in the forest and he spots a beautiful swan across the lake. It is Odette, and she is cast under a spell by the evil magician Von Rothbart. She has live as a swan and the only way she can be free is if a man truly promises that he loves her.
Prince Siegfried cannot stop thinking about Odette and the evil Von Rothbart is aware that Prince Siegfried is falling in love with her. He makes plans to stop this, as he does not want his spell broken.
Von Rothbart tricks Prince Siegfried and presents his daughter Odile, who is magically disguised as Odette. Odile is near identical to Odette; their only difference is Odile wears black and Odette wears white. Prince Siegfried is enchanted by Odile. He dances with her and reveals his love, still believing she is Odette. Yet Prince Siegfried soon realizes he has mistaken Odile for Odette.
Siegfried finds Odette by the lake and begs for Odette's forgiveness but the vow is broken.
Odette throws herself into the lake and Siegfried follows her to the end of their lives and love for eternity.