Audition Tips - Should I Apply for Alvin Ailey School?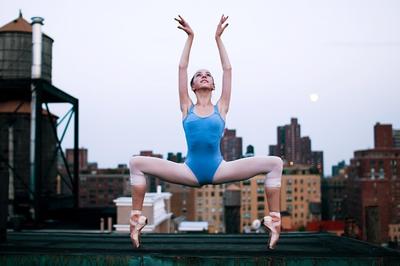 Reaching for my goal...
Audition Tips - Should I Apply for Alvin Ailey School?


Odette,
I have been obsessed with the Alvin Ailey American Dance Theater for ages now, they are so inspiring and so beautiful. I love how the dancers perform and they have so much talent and strength. One day I wish to perform with them.
I was on the internet when I spotted an advertisement for the Ailey School and my heart jumped. I thought; "wouldn't that be amazing!" then I thought about how unrealistic it would be since I do not live in the US and how it would be pretty crazy since yes, I do believe in myself as a dancer but am I good enough?
I look at the young dancers (nearly professional standard) and I think wow, and I look at the Ailey School Dancers and think, I'll never be as good as them. My turnout and flexibility sucks and the only thing that is strong about my dancing is my quality, performance and strength as a dancer.
I feel like it would be such an amazing experience but I feel as if I would never be good enough for their standard. They would look at my turnout and splits and think "NO".
I just feel so confused. I am battling between my dreams and reality. I want to be a determined, strong and good dancer but I am also struggling to be the best.
I need advice!
Orla x
============================================
Reply by Odette
To:- Audition Tips - Should I Apply for Alvin Ailey School?
Hi Orla,
Thank you for your message, I absolutely love to hear about your story and how I could help you reach further towards that dream. What a beautiful picture you attached too, where did you find it? I love the position.
There are many thoughts you are feeling which remind me so much of mine when I was younger. I would look at
the older dancers and admire them thinking 'wow', will I ever be like them? I would see the professional dancers and never imagine me being like one of them, even though I am now!
There are many things you dream for which can come true to a certain extent. Even if it is not the exact place or path you imagined to follow, there are amazing things that can happen to you as a dancer.
Although dance schools will look at your facility as a young dancer, the performance qualities you have is such a strong part to a dancer. No matter what people say or how amazing you think other dancers are, you have to keep this strength in you and believe in what you are good at.
The idea is not crazy to apply for Alvin Ailey School. As long as you are getting a standard amount of dance classes now and fit into the age ranges, what is stopping you?
I am not aware of your circumstances, but there are tons of dancers who have moved abroad to get the dance training they dreamed of.
I would talk to your parents first though. Especially when you are younger, you need their advice and approval to the decision you make. There are always more complicated factors to what you want and often your parents can see what is best for you.
It is never crazy to have a dream or something you desperately wish to come true. I am sure every person does. But if that dream is in hands reach and you really think you could achieve it, then go forward with nothing but determination and belief.
At least then, you know you did everything you could and if it doesn't happen, then something better will come out of it.
No matter how much you want something, always remember how many other incredible things there are for you.
Best wishes,
Odette