Marianela Nunez - One of my favourite ballet dancers
by Anna
(England)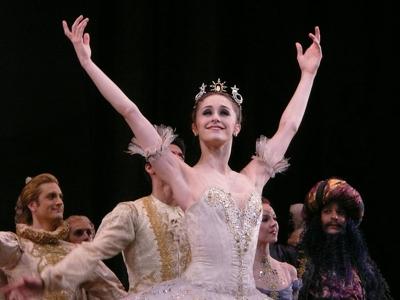 Marianela Nunez
Marianela Nunez - One of my favourite ballet dancers: -


Hello Odette,
One of my favourite ballet dancers is Marianela Nunez. She is a principal dancer in the Royal Ballet Company and I just love everything about her dancing!
Marianela was born in Argentina, 1982. She became the youngest principal dancer with the Royal Ballet and is recognized for her "gold standard technique".
She began dancing at the age of three and by the age of eight she was taken in by the Instituto Superior de Arte of the Teatro Colón in Buenos Aires.
She studied here until the age of fourteen when she was asked to join the Company in the corps de ballet. She made progress very quickly here and got the opportunity to perform all around the world. She even got invited to perform as a guest ballerina on a tour with the ballet company of Teatro Colón.
Despite not knowing any English, Marianela the Royal Ballet School graduate year in 1997. By the end of that year she was dancing the female leading parts and the title roles in the majority of the performances.
She was just 16 when she joined The Royal Ballet Company at the start of the 1998/99 season. She rose swiftly here and was made principal by 2002.
Marianela has had a highly successful career which is still ongoing; she has danced a countless number of principal roles and has also created many roles, including a role in Wayne McGregor's Infra 2008.
========================================
Reply by Odette
To:- Marianela Nunez - One of my favourite ballet dancers
Hi Anna!
Thank you so much for your sharing your thoughts! I too think that Marianela Nunez is a sensational dancer. She has a real unique quality which is obviously why she has become such a successful and inspirational ballet dancer to us all!
Thanks again!
Odette
ps.
To become the best dancer you can be, learn the Seven Secrets .....
go to my
'Seven Secrets of Ballet' page