Ballet History - The Beginnings of Dance
The ballet history very first began in the Italian Renaissance. It was in the 15th century before the ballet went on to develop in France and Russia, becoming a performing dance form for the many audiences.
Ballet began to be taught around the world, using each different culture to influence the art form. It attracted many creative choreographers and talented dancers that later went on to become legends in ballet.
Many ballet companies formed around America, Europe and Asia.
Gradually, each country became more informed of dance and many schools were set up to teach the technique of ballet.
There were many developments that later began from ballet, such as Expressionist dance and and neoclassical ballet.
Modern dance had also emerged by the early 20th Century, it showed a more free and natural way of moving compared to ballet.
Dame Marie Rambert (1888-1982) founded the Ballet Rambert Dance Company, making a great impact on British ballet. Her interest for traditional and new dance forms began when she joined together with Serge Diaghilev's Ballet Russes.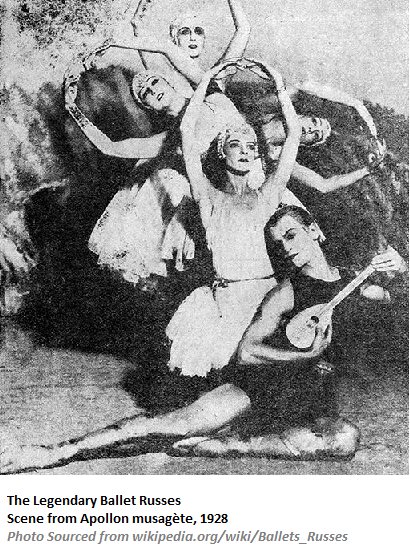 Ballet Russes is known as the greatest ballet company of the 20th century.
It treasured many ballet legends including the great choreographers Marius Petipa and the young George Balanchine, who was at the very start of his career.
It was formed in Russia and performed internationally between 1909 and 1929.
It was with the legendary Ballet Russes that Rambert became assistant to choreographer Vaslav Nijinsky and she studied ballet with Italian ballet master Enrico Cecchetti.
Her knowledge of classical ballet greatly developed and in 1919 Rambert managed to set up her own dance school in London where she taught Cecchetti's methods.
Marie Rambert went on to establish the Rambert Dance Company in 1926 and since then evolved to become one of the world's most renowned modern dance companies.
The company acted as a great influence to the development of dance in England and since continued to cherish and deliver new trends in dance.
Rambert Dance Company is still one of Britain's leading contemporary dance companies. It is currently under the artistic direction of Mark Baldwin and tours Britain, as well as being based in London.
The company produce dance for future generations and strive to work with current and exciting choreographers. The accuracy and precision of the dancers lets them be regarded as some of the most versatile dancers in the world.
Discover MORE on Ballet Rambert and the history in dance.
return from Rambert Ballet History to Ballet Dancers Guide homepage or alternatively back to History of Ballet