Ballet Tutu
The Beautiful Styles and Designs
A ballet tutu can transform a dancer to look like a ballerina. The tutus are beautiful, feminine and elegant as well as being the traditional costume for every classical ballet performance.
You will recognize a typical tutu as the round, short, classic style. This is the most common for ballet dancers, but there are actually many more types and variations that you must discover about.
The many types of tutus determine the style, length and era of when it was designed.
Some of the names of tutus include the Romantic, Classic, Pancake, Balanchine and Platter.
The two main types of tutus you will see in performances are Romantic and the Classic tutu.

The Romantic and the Classic tutus are used in ballets like Sleeping Beauty and Swan Lake. They are very traditional costumes for ballet dancers and if you enter any competitions or perform solos, it will be the Classic tutu which you will most probably need.

Romantic Tutu:
You will recognize the romantic tutu in ballets such as Giselle and Les Sylphides. It was first worn by Marie Taglioni in 1832 when she was performing Les Sylphides, since then it has been named the Romantic Tutu.
This tutu is more flowing and is made to look very free and light. It is longer and cuts just above the ankle, so that it is mostly the ladies pointe shoes that can be seen.

Classical Tutu:
There are two types of classical tutus-
Bell: It has layers of netting and does not use a wire hoop, looking more short and stiff.
Pancake: It should use a wire hoop and has more layers of netting. The difference between the bell and pancake, is the bell is normally longer.
Especially the Classical tutu and Balanchine tutu, it's important to get a ballet tutu that fits correctly. If the tutu is too big and extends out too much, it can make the legs look shorter than when it is at slightly shorter length, making the legs can look longer.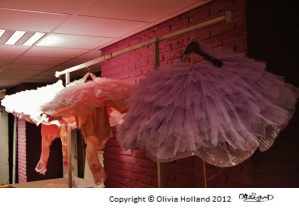 The skirt of the tutu can be made from many materials including Nylon, Tulle and Muslin. Every tutu has a bodice which can be sewed to the tutu in with elastic to give you more movement, otherwise the costume can feel too restricting for ballet dancers. The tutu basque can be attached to the bodice and is from the waist to high on the hip.
A tutu always has a lot of embellishments, so whether it is diamonds, pearls or sequence, these extra touches are sure to make every costume look ideal for the ballerina on stage.
return from Ballet Tutu to Ballet Dancers Guide homepage or alternatively back to Ballet Supplies