Chicago Ballet
Discover Dance in this City!
Chicago ballet is bursting with dance organizations and performances supporting the arts and ballet. Inside the city of Chicago, it is glowing with ballet companies.
It's time for you to disover dance in this city! Lets take a look how many different places there are for you to train, learn and perform in what you love to do most.

There are many ballet schools and companies to see in this city.
Some of the mose recognized places are Joffrey Ballet, Chicago Ballet and Chicago Festival Ballet.
Let me give you a quick city overview of 4 different places you can learn to discover dance in Chicago.

Joffrey Ballet
Joffrey Ballet is very well known intentionally and has become one of the most recognizable ballet companies in America.
The company currently has 42 dancers from international places such as Cuba, Spain, England and also America itself. Some of the dancers have appeared in famous movies, such as "Save the Last Dance" (2001) and "The Company"(2003).
Joffrey Ballet was formed in 1965, making its debut as the Joffrey Ballet, and by 1966 they were invited to become City Center's resident ballet company.
The Academy of Dance is the official school of The Joffrey Ballet and offers dance to students of all ages, levels and backgrounds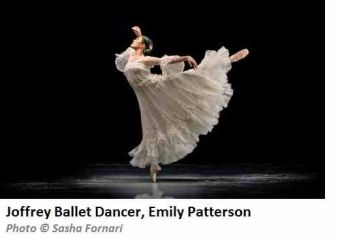 Ballet Chicago
www.balletchicago.org
Ballet Chicago is made up of both a school and a pre-professional performing company. It is under the direction of Daniel Duell and focuses on the famous Balanchine technique, created by the great George Balanchine.
The School of Ballet Chicago provides solid training and prepares young dancers for their careers. There is also a Studio Company which is made up of more advanced-level students from the school. It gives them a chance to experience the true life of a professional dancer in a ballet company.
The Chicago Ballet Center
Here, there is a Ballet School and a Ballet company. The company builds strongly on the classical tradition and also original choreography with a contemporary edge, to create the enduring classics of the 21st Century.
Chicago Festival Ballet
Chicago Festival Ballet is a professional ballet company that was founded in 1989 by choreographer, Kenneth von Heidecke. The company is currently made up of professional dancers from the United States, South America and Cuba.
The company perform many of the classics like the Nutcracker and Cinderella, but also romantic and neoclassical works in venues around the United States.
The company has an associate school, Von Heidecke's School of The Chicago Festival Ballet. In 2000, Dance Spirit Magazine identified the school as one of the top four ballet schools in the Chicago metro area.
return from Chicago Ballet to Ballet Dancers Guide homepage or alternatively back to Ballet Companies