Famous Ballerinas
The Five Worldwide Names
Here is a list of FIVE famous ballerinas who have reached the very top of the ballet profession. These dancers are recognized throughout the world and have become international stars.
You must learn about these famous ballerinas and see how they made it to the top, because it is very rare to reach that sort of high level recognition in the dance world.
The ballet world is full of talented dancers.
Not every dancer becomes globally famous, but there are thousands of professionals who are skilled and unique in their own way.

On this page, I will show you the modern age ballerinas who have made their name famous throughout the world.
There are a handful of famous ballerinas who have become legends in history. Even of you just click on their name, or search on google, you will find pages bursting with information and recognition on these five famous dancers:
FAMOUS BALLERINAS


FAMOUS, FABULOUS, UNFORGETTABLE 


Sylvie Guillem
Sylvie Guillem is a French ballerina. She born in 1965 and became the Paris Opera Ballet's youngest ever ballerina.
As a young student, Sylvie Guillem spent her training at the Paris Opera Ballet School from the age of 11. After she finished training, Guillem became professional ballet dancer and joined the Paris Opera Ballet in 1981.
Guillem had the aspiration was to work independently, so whilst she became one of the Royal Ballet's principal guest artists in 1989, she also became a self-employed performer.
Darcey Bussell
Born in 1969, Darcey Bussell is an English ballerina and began training at the Royal Ballet School at the age of 13. She joined Sadler's Wells Royal Ballet in 1988 to become a professional and was promoted to principal just one year later.
Darcey Bussell became known as the English Royal Ballet Principal and is considered one of the greatest ballerinas. The famous choreographer, Kenneth MacMillan, took a great interest to Bussell.
On her final performance, she danced MacMillan's "Song of the Earth" which was broadcast live on television.
Bussell retired in 2007 and has continued strongly her interest in the world of dance. She writes books, creates pilates DVDs and has famously appeared as a judge on the television show "Strictly Come Dancing" in the UK.
Julie Kent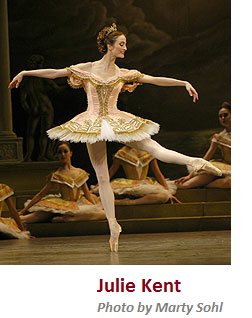 Julie Kent is an American ballerina and is currently a principal dancer with American Ballet Theater. She was born in 1969 and started her training with Hortensia Fonseca at the Academy of the Maryland Youth Ballet.
Julie Kent went to train the School of American Ballet where in 1985, she became an apprentice of the main company and joined the American Ballet Theater.

Julie Kent became a Principal at ABT in 1993 and during her career, featured in the famous film "Center Stage".
Paloma Herrera
Paloma Herrera was born in 1975, in Argentina. She is currently a principal ballet dancer with American Ballet Theater.
Herrera trained at many different places around the world, including South America and the English National Ballet in London.
Before Paloma Herrera became an official member of the ABT company, she studied first at the School of American Ballet.
Herrera joined the American Ballet Theater in 1991 and moved very swiftly through the company to become a principal by 1995.
Polina Semionova
I first came across Polina Semionova from the Herbert Grönemeyer music video, where she is featured dancing in the most beautiful and natural way to this enchanting music. It really captured me as a young dancer and I felt inspired by the whole way she moved.

So, I love Polina Semionova! She is a Russian ballerina and was born in 1984, studying ballet at the Bolshoi Ballet School in Moscow.
Polina Semionova rose to the top of the Berlin State Opera company. In 2002, Semionova joined Berlin State Opera and was only 18 when she became the youngest principal in the company's history.
return from Current Famous Ballerinas to Ballet Dancers Guide homepage or alternatively back to Ballet Dancers