Giselle Ballet
A Romantic Favourite
Giselle ballet is a treasured story full of love, drama and passion. It is a renowned classical ballet and continues to be performed by famous ballet companies around the world.
The ballet was originally choreographed by Jean Coralli and Jules Perrot, performed in Paris in 1841. Giselle ballet is seen one of the great Romantic ballets of all time.
Giselle is in two acts and recognized for the long, romantic dresses that create an airy quality to every ballerina.
It is full of masterful corps de ballet, strenuous solos and passionate drama.
The modern day production has been remastered by Marius Petipa and many other choreographers have created their own version.
Act One
Giselle ballet begins in the Rhineland village, a young nobleman named Albrecht spots a young and beautiful peasant girl. Her name is Giselle. Albrecht ca't help but approach her and he leads her to believe that he is a farmer named Loys.
Giselle is unaware of his true identity and becomes captivated by his charm. She completely falls in love with him.
What Giselle does not know is that Albrecht is already engaged to Bathilde, the daughter of the Duke.
Another young villager Hilarion is in love with Giselle and suspects that Albrecht is an impostor.
Hilarion tries to warn Giselle not to trust the stranger, but she is in love and refuses to listen.
Giselle and Loy passionately dance together but Giselle has a fragile health and a weak heart, so she struggles to continue.
Horns are heard in the distance of the village and a hunting party enter. Among the hunters are Albrecht's fiancée, Bathilde and her father.
A celebration begins and Giselle dances with the party. The truth about Loys is revealed and the shock becomes too much for Giselle, she is horrified and weak. Giselle goes mad and dies of a broken heart.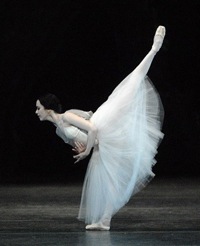 Act Two
Giselle's grave lies in an unhallowed ground by the forest lake. Her spirit arises from her grave and the Queen of the Willis, Myrtha, welcomes their new companion, Giselle.
The whole group of Willis join Giselle, who are also female spirits and the ghosts of young girls.
Hilarion is grieving Giselle's death and stops by her grave. He is surrounded by the Willis who seek revenge upon men by dancing them to death.

The Willis pursue Hilarion and drive him to his death. Soon after, Albrecht enters and searches for Giselle's grave. Her spirit emerges and Albrecht begs for forgiveness. Giselle still loves Albrecht and is willing to forgive him.
The Willis surround Albrecht and intend to seek his death too, but Giselle manages to protect him. When day breaks the Willis fade away and fall back to their graves.
Giselle's love saved Albrecht which means her spirit can be freed from the power of the Willis. She returns to her grave to rest in peace, leaving Albrecht sorrowing alone.
return from Giselle Ballet to Ballet Dancers Guide homepage or alternatively back to Ballet Stories