Ivory Ballet shoes


Stylish and Elegant



Ivory ballet shoes are uniquely beautiful to have in your dance wardrobe AND fashion collection. They are most definitely stylish to wear outside of dance, as well as in the ballet studio.
Ivory shoes are a creamy-white colour with a glowing satin material. The pure beauty and elegance in the style has made them the idea choice for special occasions like weddings and christenings.
You can buy evening style ivory shoes, which look almost identical to a pair of ballet dancer's flat shoes.
The ivory shoes for ballet dancers have been designed especially for dancers in the studio.
This means they are not as hard wearing if you wear them outside, but still a worthwhile choice.
From toddler to ballerina, the ballet shoes are one of the most important supply to every dancer and there are many different styles for you to buy. The ballet flat shoes are so perfectly comfortable that you will tempted to wear them as slippers too.
A ballet flat shoes comes in the different material of satin, leather and canvas. Any type of ballet flat shoe comes with a pleated toe, drawstrings and a suede sole. The sole can either be full sole, or a split sole but the full sole will give you more support.
If you are ordering shoes online, then the sizing is the area to be most aware of.
Ballet shoes are traditionally made one size smaller than your average street shoe.
Often, some brands can come exceptionally smaller or bigger so be careful.
The shoes always come with elastics which support your foot across the arch and also helps keep the shoe on your foot. Mostly you have to sew the elastics in yourself, but sometimes they do arrive already sewn.
The shoe should fit like a glove and the feet should be placed with the toes flat inside the shoe. They should feel snug, but not so much that the toes bunch up.
The satin ballet shoe often gives a smarter appearance and you have the choice of either pink, white or ivory satin. The colours are very delicate which can mean they get dirtier easily, but the material is very long lasting.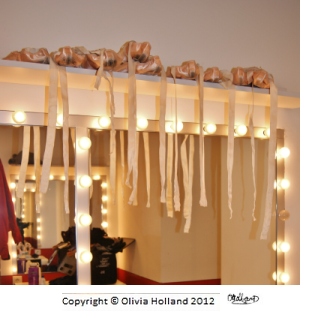 Ballet flat shoes are the major supply that dancers always wear every day in ballet class. It is only when a dancer gets older can she advance to a higher level to wear satin pointe shoes.
Once you have found the ideal pair of ivory ballet shoes you can double check the size, style and materials then you are well on your way to finding a beautiful bargain.
return from Ivory Ballet Shoes to Ballet Dancers Guide homepage or alternatively back to Ballet Supplies