Katherine Dunham
Historic Dance Legends
Katherine Dunham was one of the first black artists to form a ballet troupe and became a leading figure for choreography and dance technique of the 20th century.
She is a leading example of someone who has succeeded within the dance profession and managed to achieve historic legends in the world of dance.
Most dancers know how tough it is to pursue a professional career.
You have to commit dance to your life and it is very competitive field to rise through to the very top.
Yet Katherine had a drive and passion that lead her to have one of the most successful careers in American and European theater.
As a dancer, Dunham performed for theaters that toured the world and choreographed pieces for Broadway and Hollywood films.
Not only did she dedicate her life to dance, but she became a wife and a mother as well as an artist, manager and producer.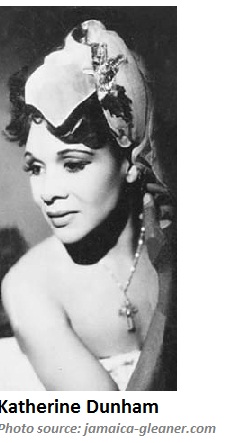 The Katherine Dunham Dance Company was formed in the 1930s and became the first ever African Amercian modern dance company. It was the only permanent American dance troupe at that time.
The company treasured the most versatile artists including dancers, singers, actors and musicians.
They performed a mixture of Afro-Caribbean, ballet and modern dance whilst capturing the eyes of the audience with their distinctive style.
Dunham's style was influenced from her own lifetime and the strong rhythms reflected all she had learnt with the natives whilst studying in the Caribbean.
Her troupe went on many celebrated tours around the world and had successful performances on Broadway and around the major cities of America.
The company kept strong for over 30 years and played a key role in establishing black dance as an art form. Dunham choreographed more than 90 different dances and her technique became famous in showcasing a fusion of many cultures.
return from Katherine Dunham to Ballet Dancers Guide homepage or alternatively back to Career Development Plan