Romeo and Juliet Ballet
The Story of True Romance
Romeo and Juliet ballet is an all-time favourite classic love story that many ballerinas have the dream to perform one day. The ballet is known for its breathless pas de deux, dramatic emotions and tragic tale.
It tells the story of two young lovers, Romeo and Juliet, who are longing to be together but their families do not approve of their love. The pair secretly make their own plan to be together, but soon it begins to falls apart...
The tale is full of secrets, passion and eternal love.
The music is passionately famous by the composer Sergei Prokofiev.
The ballet is a worldwide success by different choreographers in renowned companies like the Royal Ballet and the Kirov ballet.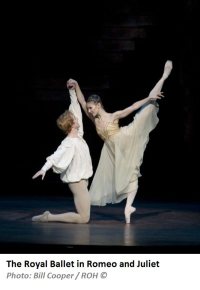 The story of Romeo and Juliet ballet begins when young Romeo enters the grand masked ball. It is a party held by the Capulet family and Romeo has to trick his way in by going in disguise.
It is here when Romeo first meets Juliet Capulet and it is love at first sight. However, the Capulets and are old enemies of the Montagues and so they have no other choice but to keep their passion a secret.
Friar Laurence secretly marries the couple, hoping that this will ultimately put an end to the family's disagreements.
Their plan does not succeed and during a fight Juliet's cousin Tybalt kills Romeo's friend Mercutio. Romeo is truly distressed and wants revenge, so he kills Tybalt and is consequently sent to exile.
Juliet falls to Friar Laurence for help and he creates a plan to help her. She is to drink a sleeping potion which will lead her family believe she is dead. Friar Laurence will tell Romeo the truth and Romeo will then release her from her tomb. He can then take her away and the couple can live together with each other forever.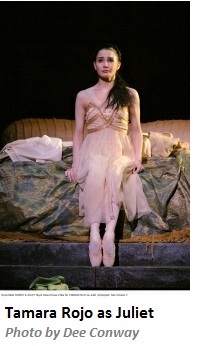 Juliet drinks the sleeping potion and her family distraught when they find her the next morning. They believe she is dead and go ahead to bury her.
Romeo soon hears the news of Juliet's death, and he has not yet heard the message from Friar Laurence, so he is desperately grieving.
Romeo is convinced Juliet is truly dead and so he drinks poison too. When Juliet awakens to see that Romeo is dead, she is heartbroken and stabs herself so they die together.

return from Romeo and Juliet Ballet to Ballet Dancers Guide homepage or alternatively back to Ballet Stories