San Jose Ballet
San Jose Ballet is a classical based company in California. It includes 30 of the finest dancers and has an official ballet school that trains young students into professionals dancers.
The previous artistic director, Dennis Nahat, says "no two dancers are the same", which is true to show you CAN be different as a ballet dancer.
How you perform, interpret and express your dancing is something that comes unique to YOU.
San Jose Ballet announced a new partnership with the famous American Ballet Theatre in 2011.

It shows a close collaboration within the training methods of the school for young dancers.
The ABT National Training Curriculum is taught to the student's developing in the school of Ballet San Jose.
The ballet dancer's from San Jose company certainly are unique. The dancer's are from all over the world including China, Cuba, Denmark, France and United States.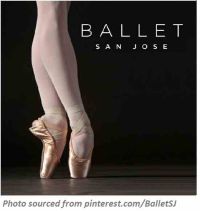 General Information
Name : Ballet San Jose

Previous Names: San Jose Cleveland Ballet, Ballet San Jose Silicon Valley

Year Founded : 1986

Previous Artistic Director: Dennis Nahat

Location : San Jose, California, USA
Brief history
The company first began in 1986 and named the San Jose Cleveland Ballet. It formed because of a partnership with Cleveland Ballet of which had been around for ten years, founded by Dennis Nahat and Ian Horvath.
San Jose Cleveland Ballet gradually expanded over the years and became one of the top 6 ballet company's in the country. Yet when Cleveland Ballet was coming to an end in 2000, San Jose Cleveland Ballet kept the company going.
Over half the dancers, the headquarters and director moved to San Jose where the company was recreated. It was named the "Ballet San Jose Silicon Valley", until in July 2006 shortened its name to Ballet San Jose.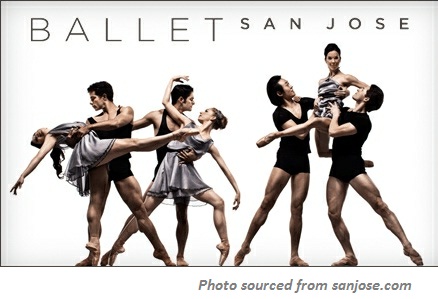 San Jose Today

Ballet San Jose are no doubt full of talented dancers from all over the world including iconic places like Argentina, China, Cuba and the United States.
However, 2011-12 proved a tough season for San Jose Ballet. The finance and funding put a lot of strain on the company, creating an uncertainty in the future of all the dancers as well.

In early 2012 the Artistic Director, Dennis Nahat, did not continue and the company soon announced it's new partnership with ABT.
The company developed an impressive repertoire of works by Balanchine and loved classical ballets like Swan Lake, all under the direction of founder Dennis Nahat.
At this moment in time, marks a historic place for the company. Their new partnership with ABT and development of dancers is something to be follow in the future of this talented company.
return from San Jose Ballet to Ballet Dancers Guide homepage or alternatively back to Ballet Companies