Toddler Ballet Shoes
Fr
om Baby To B

al

lerina
Toddler ballet shoes are the very beginning for a budding little ballerina. Those tiny shoes will guide young dancers through the most joyous ballet lessons and graceful movements.
From as young as 3 years old, dancers are beginning to learn ballet and dance around in their ballet shoes. They love the sense of movement and energy to run, skip and twirl in their tiny shoes.
The fitting is what is always most essential for toddler ballet shoes.
The sizing of the shoes includes the width and the length.
Toddlers are very young and still growing, so the shoes must be properly fitted to prevent pain or injury.
It should be just as important as fitting outdoor shoes.
Those tiny toes must be securely supported in the little ballet shoes, so I can help you find the ideal pair. Let me first give you some top tips on size and material, as well as where to find those ballet shoes.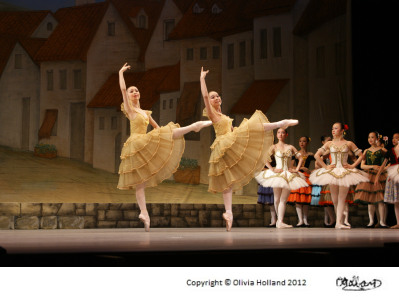 Firstly, it is a good idea to talk to the ballet teacher to see which place is best to get ballet shoes from. I got my first pair of pointe shoes from a local dance school where everybody else got their supplies too.
This ensured a quality service, good fitting and recommend choice of brands.
However, you can buy your ballet shoes online too.
There are masses of choice on websites such as eBay.
Here you will be able to also compare the prices, brand and materials.
Size
The ballet shoes should feel snug, with only a fraction of room left for growth, which is different from fitting outdoor shoes.
Each brand can vary slightly in their sizing. If you are buying online, then you can read the reviews or comments from other parents to see if the shoes deliver slightly larger or smaller.
If not, then when you fit the ballet shoes in the shop make sure there's enough space to do a demi-plie without the toes crunching up.
Materials
The three main materials for ballet shoes are satin, leather and canvas. Leather ballet shoes with a full sole support seem to the most popular choice for toddlers.
Over time, the leather molds to the shape of the foot and becomes more supple.
It is the material that is most long-lasting and once you have worn them for a while, they become the most comfortable because of the way the material softens.
return from Toddler Ballet Shoes to Ballet Dancers Guide homepage or alternatively back to Ballet Supplies