American Ballet Theater
The Ballet Stars
American Ballet Theater is one of the world's leading ballet companies. They have grown to become a worldwide success and full of passionate, blossoming professionals as well as young aspiring dancers.
Famous, is a small word for the reputation of ABT. The company are known across the globe and has become a place that dancer's of all ages dream about, talk about and wish to see dance one day.
As well as the New York City Ballet, ABT are also based in New York.
ABT has a 70-year rich history, full of success and recognition.
The company have traveled to 132 cities in 42 different countries, building an audience loved around the world.
General Information
Name: American Ballet Theatre (ABT)
Previous Names: Mordkin Ballet, Ballet Theatre
Year Founded: 1939
Current Artistic Director: Kevin McKenzie
Location: New York
Brief History
Right from the very beginning, the aim of American Ballet Theater was always to build a great repertoire of the best ballets from the past and nurture the talented young choreographers who could create new works.
And, did that, indeed. From 1940 to 1980, the company were under the direction of Lucia Chase and Oliver Smith who built up the repertoire of great full-length ballets and brought in original works.
The company went through financial issues at many times through their history, as similar with the majority of ballet companies.
However, ABT succeeded and went on to focus on bringing out ballet stars for the future. In fact, one of their biggest ballet stars, Mikhail Baryshnikov, became Artistic Director in 1980.
Jane Hermann and Oliver Smith took over the direction in 1989, before another principal ABT dancer Kevin McKenzie was appointed in 1992.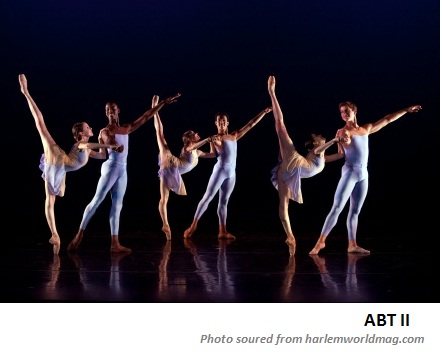 ABT II
American Ballet Theater's Studio Company, also known as ABT II, is especially to prepare younger dancer's for the full profession.
ABT II has around 12 dancers from the ages 16-20 and focuses on giving them the balance between training and professional performances.
It is a well looked after transition that gives young dancers more exposure and experience, before heading straight to a professional career in a big company.
Associate School
The Jacqueline Kennedy Onassis School is the connecting school to ABT, where many of the young dancers go on to pursue their careers with the main company.
The school trains students from ages 12 to 20, and have a high reputation of developing the most elite young dancers.
return from American Ballet Theater to Ballet Dancers Guide homepage or alternatively back to Ballet Companies