Ballerina Photos
From a Professional Ballet Dancer
Here you will find beautiful ballerina photos and wonderful paintings. You can also see EXCLUSIVE images by professional ballet dancer Olivia Holland. 
I've had a lot of fascination to my artwork and how I progressed into this direction from a full time ballet career. So, here I answered some popular questions in a Q+A with me. See below!
My ballerina photos are time capturing moments taken from my life as a ballet dancer.
I love taking pictures from backstage because it gives people an insight into the world which you don't usually see.
Although it looks all glitz and glamour, I have to tell you there is a lot more that goes on behind the scenes!
You can much more of my ballerina photos here - www.oliviaholland.co.uk
Olivia Holland Question and Answer! 
Summary 
I trained at the Royal Ballet School in London for five years, before completing my training at Elmhurst School for Dance in Birmingham. My first professional job was when I was 18 at Royal Ballet of Flanders in Belgium before moving to Northern Ballet in the UK.
I created and danced the leading role in 'Ballet Chocolat', choreographed by Andrew McNicol for National Youth Ballet, as well as starring on BBC CBeebies multiple times with Northern Ballet. 
As well as running this website, www.balletdancersguide.com, I'm also an established artist painting beautiful dancer's from across the world, www.oliviaholland.co.uk. 
Wow! That was a very brief summary and let me tell you, none of those moments came without a lot of twists and turns. I'll elaborate more on my homepage, so lets just stick to the Q+A for now! .....
How did I have time to develop my love of painting and illustration, as well as full time ballet training/ career?
My first ballet inspired paintings were from when I went on tour with Birmingham Royal Ballet as a student. I was juggling between my Art A Levels, as well as embracing this opportunity to gain professional experience performing on stage and touring to cities around the UK. 
To keep up with my art studies, I took my paints and sketchbooks with me on tour and little did I know this would lead onto to inspire me onto www.oliviaholland.co.uk. There I was capturing precious moments and it established my niche to develop onto my business, which ultimately is inspired by the ballet dancers I'm surrounded with everyday.
Since then, I always kept my watercolours with me at the theatre to paint in my spare time between performances!
Are there any particular artists I am influenced by?
I love Lesley Fotherby who was a big influence, then also Rob Ryan and Sabrina Ward Harrison who are different to my work but still send me into a whirl of inspiration.
What made me pursue the direction of ballet above everything else?
I loved to perform. Ever since I was 8 years old dancing in pantomime at Dorothy Coleborn School of Dance, I just enjoyed every second of being on stage and felt at home.
What is my main love to ballet?
I could get drifted into a whole other world when I was performing. I have a strong passion to music, so when it's combined with movement in dance it becomes a blissful experience.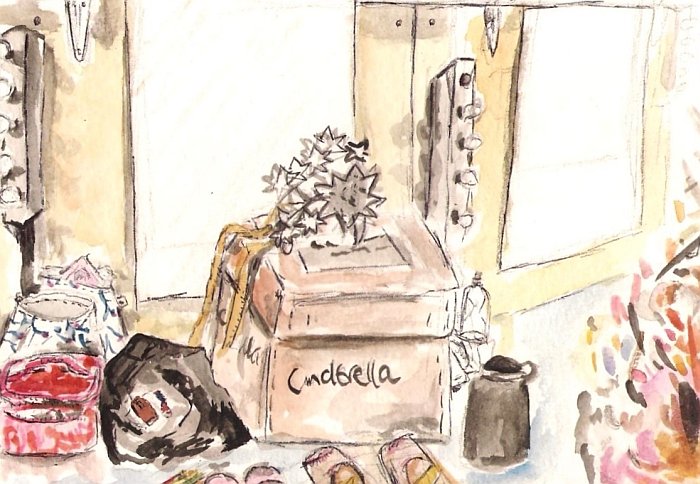 Many girls write into this site saying they are held back by their family circumstances to pursue a ballet career. How did I deal with this?
I had a lot of support from my family always. It's a hard road and not an easy route to follow, so it's really important to have support from people who not only believe in you but will also follow your decisions.
On Ballet Dancers Guide I encourage young dancers to believe in their dreams. What are my ambitions?
I see myself as a passionate artist, and more recently an entrepreneur figure. Since setting my art business and pursuing many ventures myself, I would really love to work towards a journey where I'm becoming my own boss and inspiring others. 
What has been my highlight in dance so far?
There have been many special performances which have been such highlights. One of them being 'Ballet Chocolat', where I created the leading role to dance on Sadlers Wells stage. The process was incredible and for the main gala performance, all the people most special to me came to watch - my friends, parents, sister, family - the people who have been supporting me this entire time as a dancer. That was a true highlight for them to be there with me to share this moment.
All artwork is copyright Olivia Holland. Please look at the Ballet Clip Art and Photo Policy for more information.
return from Ballerina Photos to Ballet Dancers Guide homepage or alternatively back to Ballet Clipart