Ballet Flat Shoes
Pretty and Popular
Ballet flat shoes are worn not just by dancing ballerinas, but also women all over the world. Yes, these shoes are a staple item for both the woman and the ballerina.
For dancers, ballet flat shoes are worn at the very beginning of your dance training. The shoe later develops to become a demi-pointe shoe and then onto a proper, full time pointe shoe.
The fashion shoes look almost identical to the real ballerina's shoe.
They have become a popular and pretty, being brought to life from a ballerina's soft slipper shoe.
The famous brands like French Sole Shoes sell over 500 different styles of ballet flats for outdoor wear.
When the typical woman thinks of her ballet flat shoes, it is her fashionable dolly shoes that go perfectly with the new outfit she has just bought. For her, it is a comfort to swap from heels to flats.
For the average ballerina, it is a luxury change to wear ballet flat shoes. After days and weeks of pointe shoes, it is a satisfying moment to swap to a pair of pointes for flats.
Most of the time for professional ballet dancers is spent practicing on pointe, but those ballet flats are never forgotten. Whether a beginner or a professional, every dancer will own a pair of flats.
Ballet flats are ideal for a quick warm up, or when you need to release your feet from pointe shoes. The flats come in different materials including satin, leather and canvas. There is not much difference between the two materials, except the satin does look smarter and is more shiny.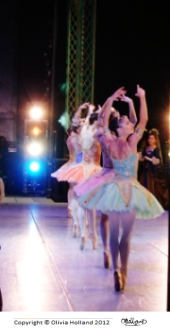 I know that as a young dancing student, my school preferred my class to wear satin ballet shoes for special occasions or exams, then leather for practice and rehearsals.
I wore a full sole with both materials and a single elastic sewn across my arch. Only when I reached a higher level, nearing to professional, did I start to wear canvas ballet shoes with a split sole.
You could say the canvas shoes look more 'professional', but I also think they are more comfortable too. They come in different colours too including pink and black.
Just like the fashion flat shoes, they should all fit like a glove. They are snug and well fitting, but you have to be careful not to have them too small. Even though the material is very soft, if the shoes are too small it will put pressure on your big toe and increase the chance of bunions.
So, whether for pure beauty or real ballerina, make sure you are the one to own a pair of these most desired ballet flat shoes.
return from Ballet Flat Shoes to Ballet Dancers Guide homepage or alternatively back to Ballet Pointe Shoes