Cheap Pointe Shoes
Cut the Costs
Cheap Pointe Shoes are hard to find. They are expensive! However, there are ways to help your pointe shoes last longer and save money for your next pair of pointe shoes.
I know how it feels to buy pointe shoes on a budget as a young dancer. You can't afford to have a pair go soft too quickly! As a professional, it's a real luxury to have your pointe shoes supplied by the ballet company. 
Even just by looking after your pointe shoes correctly, you could cut the costs hugely.
Every dancer's pointe shoes breaks down eventually as the material softens under heat, usage and pressure.
Some dancer's naturally soften their pointe shoes quicker than others due to strength, flexibility or brand of shoe.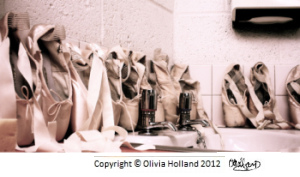 If you are buying pointe shoes for the very first time, it is really important to have your feet fitted properly in a dance shop. Pointe shoes have to fit exactly to the shape of your foot and you need to take the time to get this looked at with someone.
However, once you are confident you have found your length, width and sizing, you can hunt online to find the best bargain.
Finding cheap pointe shoes often depends on which brand you buy.  
Generally, they are around the same price. Except from brands like Gaynor Minden which are much more expensive than others. 
Gaynor Mindens are known to last a lot longer than the average pointe shoe, which reflects in the price.
I have tried Gaynor Mindens when I was younger and felt the immediate comfort of the pointe shoe, however some ballet schools and companies don't agree with wearing Gaynors.
Therefore, I switched back to Freed and Bloch, which suited my feet better. That's not to say after some long days dancing, I didn't dream of wearing in a comfortable shoe like Gaynors!
Some other known brands include Bloch, Capezio and Freed, all of which are generally similar prices. When I was a student, I found a great pair of Bloch pointe shoes in the style of Aspiration.
My Aspiration Bloch pointe shoes were strong and supportive for all my strenuous pointe classes. What's more is I discovered a pair online from Dance Direct, which were much cheaper than what I would pay in the dance shop.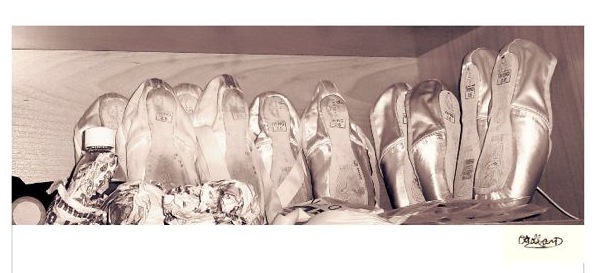 After you dance, the material in the pointe shoes soak up the sweat and become much softer. This means the shape is easily distorted, so if you leave them in your ballet bag they could easily get squashed and not maintain the solid shape.
Therefore, you need to give time for your pointe shoes to dry out. This will keep them in better shape and be ready for your next class.
Did you know nearly every professional ballet dancer uses shellac for their pointe shoes? I certainly couldn't have lived without it!
Shellac is liquid which hardens in your pointe shoes and gives them extra strength to last longer. I always applied shellac to my new pairs of Freed pointe shoes before I wear them, as well as older shoes to give them more strength.
You either pour the liquid into the toe of shoe, or paint it onto the soles, depending on where you want them hardened. Then you just leave the pointe shoes to dry for at least one day and you will certainly notice a difference in strength.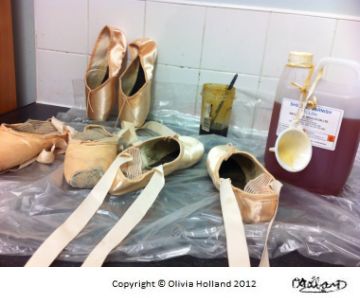 Using shellac in my pointe shoes
It can take a long time to find the right pair of pointe shoes, because your feet are constantly changing and adapting (even when you are a professional!). It takes practice to build up a routine with your pointe shoes and learn what works for you.
You must keep aware of how your pointe shoes feel. Are they too tight? Too small? Or even too big? Look after your feet and try to find a solution if your pointe shoes don't feel right.
Every ballet dancer must learn how to look after their pointe shoes. It can save you money and ultimately be on the road to cheaper pointe shoes!
return from Cheap Pointe Shoes to Ballet Dancers Guide homepage or alternatively back to Ballet Pointe Shoes