Male Ballet Dancers
The Famous Names
Male ballet dancers have power, charm and an incredible amount of strength. All over the world, the male dancers dominate the dance world with their exceptional skill and talent.
The leading names in the history of ballet are legends in dance today. Some of the famous names include Vaslav Nijinsky, Rudolf Nureyev, Mikhail Baryshnikov and Carlos Acosta.

It takes an incredible amount of work to become like the male ballet dancers.
The muscles are as strong as an athlete, yet their movement is graceful and effortless.

If it is not their skill to seamlessly partner the ballerinas, it is their ability to jump which is like you have never seen before.

Male Ballet Dancers
Male ballet dancers are incredibly masculine and have so much strength in their body. The professionals have to be physically fit to keep up with the high demands of a ballet dancer's career. They have beautifully defined muscles and a sculpted physique, which show just how athletic the male dancers have to be.
Paintings by © Olivia Holland
Each one of the male dancers on this page have performed on the most iconic stages and partnered with legendary ballerinas. They have become world renowned and famous for their skills to reach the audience as a fine artist and dancer.
Vaslav Nijinsky (1890- 1950)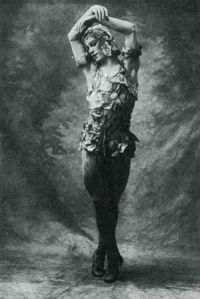 Vaslav Nijinsky was a Russian male dancer, widely known for his strength in characterization and how he transformed himself for each role he danced.
Nijinsky was part of the Marinsky Theatre and Sergei Diaghilev's Ballet Russes. The audience say no one who ever saw him ever forgot his performance. 

Nijinsky was able to do magnificent jumps and had many roles created for him. His sister, Bronislava Nijinska, also became a Russian ballet dancer and choreographed many well known ballets for the Ballet Russes.
Rudolf Nureyev (1938-1993)
Rudolf Nureyev made a real influence on ballet history and is widely known for his famous partnership with the ballerina Margot Fonteyn.

He was a Russian dancer and globally recognized as both a touching performer and famous celebrity.
In 1962, he made his first appearance in London with the Royal Ballet, where he performed Giselle with Margot Fonteyn.
He became not only a legendary dancer, but a choreographer and director. Through his career, Nureyev gained bigger audiences than any other dancer.
Mikhail Baryshnikov
Baryshnikov is often noted as one of the greatest ballet dancers of the 20th century. He was born in 1948 in Riga, Latvia, and first began his professional career with the Kirov ballet.  
Baryshnikov later joined the New York City Ballet and danced the famous style of George Balanchine, becoming a  principal dancer. He later danced with the American Ballet Theatre as well as becoming the Artistic Director.
He also starred in five films, receiving a nomination for the Academy Award for Best Supporting Actor. You may also recognise him as one of the leading actors in the famous TV series of "Sex and the City"!
Carlos Acosta
Carlos Ascosta is another world famous name in dance. He is a Cuban dancer, born in 1973, recognized as a global star and inspiration for the male dancers in ballet.
Acosta performed throughout the world and danced with many renowned ballet companies including, the English National Ballet, Houston and American Ballet Theatre.
He became a permanent member of The Royal Ballet since 1998 and was promoted Principal Guest Artist in 2003.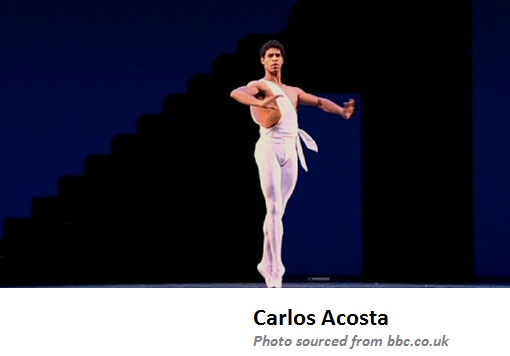 return from Male Ballet Dancers to Ballet Dancers Guide homepage or alternatively back to Career Development Plan