Gold Ballet Flats
Shine in Fashion
Gold ballet flats are the ideal colour to give you an elegant and luxurious look. You won't only be glowing in the ballet studio, but shining in the streets too.

The ballet flats are just one of the fashion items that ballet has largely influenced. From tutus to tiaras, ballet has inspired the wardrobe's of many famous stars and catwalk models.
The renowned brand, French Sole Shoes, are recognized globally as a true "Fashion Classic".
The designer, Jane Winkworth, was first inspired by the charm of ballerinas. She loved the ballet shoes they wore.

Jane Winkworth went on to create a world renowned brand that sells over 500 different styles of ballet flats.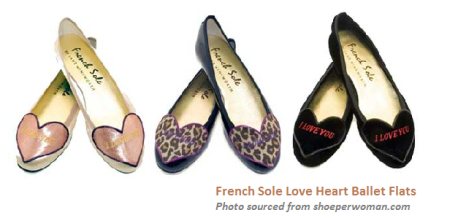 Ballet is so beautiful and delicate, yet brings such power and strength to the eye. It is perhaps this diversity that is one of the reasons why ballet has such a great impact on fashion.
"Ballet has always influenced fashion, I would say, since the romantic ballet in the 19th century, and vice versa, fashion influenced ballet," says Alison Matthews David, assistant professor in fashion design at Ryerson University in Toronto.
The real type of soft ballet shoes are very lightweight and designed especially for dancers. The flat ballet shoes are very comfortable and snug to support the dancer in every challenging move.

However, the ballet dancer's pointe shoes are different and more supportive to enable to ballerinas to dance on their toes. The pointe shoes are carefully handmade with layers of fabric to make them hard and shaped like a box by the toes.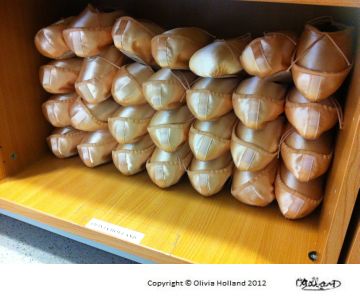 The outdoor wear of ballet flats look almost identical to the soft ballet shoes. They are sold in nearly every fashionable shop and known for their light and feminine look.

Today, ballet most definitely brings a feminine edge to fashion and inspires floaty fabrics and soft nude tones.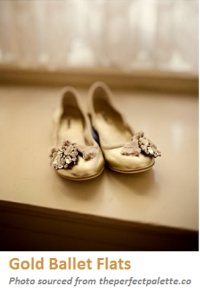 The designers such as Valentino, Chanel and Lanvin love to embrace the romantic mood that ballet brings.
When ballet first began many centuries ago, the ballet dancers wore  elaborate ornaments and huge head-pieces.
However, this heavy look gradually changed and the dancers got rid of bulky petticoats.
The female dancers became no longer hidden beneath their costumes and the classical ballet costume let dancers have even more freedom in their movements.

More and more, ballet seems to be inspiring the globe and the staple item of ballet flats are a must for your wardrobe.
Will YOU be buying a luxury pair of gold ballet flats?
return from Gold Ballet Flats to Ballet Dancers Guide homepage or alternatively back to Ballet Dance