Merce Cunningham
An American Dance Legend
Merce Cunningham made a huge influence on modern dance and as a highly recognized choreographer and dancer himself, he remains to be known as one of the greatest legends in America dance.
Cunningham had a lifetime in dance, which lasted more than 60 years and what a success it was. He became one of the most recognized choreographers of the 20 century, as well as founding his own dance company and creating his own Cunningham technique.
Cunningham worked closely within the dance world until he was 90 years old.
There have been many books and films and highlighting his life and showcasing his contribution to this art form.
His works have been performed by famous ballet companies around the world including New York City Ballet and the the Paris Opéra Ballet.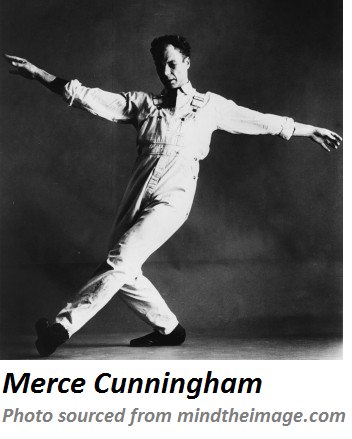 Merce Cunningham was born in 1919 in Washington, taking his first dance training lessons in Cornish College of the Arts for two years.
Near the end of his training by the time he reached 20, Martha Graham had already spotted Cunningham's talented and invited him to join her dance company.
He moved to New York and became a professional dancer in Graham's company, dancing as a soloist for six years.
It was not long before Cunningham met his life partner, John Cage, who was a great musician and a close collaborator along with other artists, designers and architects that Cunningham liked to work with.
When Cunningham created his own dance company, it kept strong for more than 50 years and carried through his distinctive style, showcasing Cunningham's dance technique.
The Cunningham technique is still used today and focuses on the spine and torso, whilst developing both the physical and mental importance in dance.
After Cunningham's death in 2009, his company made a final two year international tour for the world to see the unique creations Cunningham had made.
Cunningham sculpted his own dancer's and formed his own technique, in which was translated through his famous choreography. The final tour was a last chance for the world to see closely the real existence of what a great legend in dance had produced.
return from Merce Cunningham to Ballet Dancers Guide homepage or alternatively back to Audition Tips